Which is the best font manager for Linux users – open source? We found it and wrote a full review below.
The world prepares for full font customization on all devices and interfaces.
Presently, this is what the market asks for, full font customization everywhere, and everybody is investing in this direction.
Even in some games you can change fonts, text colors, sizes, and implement symbols.
What about Linux users? If you use Linux, how do you change fonts and tweak them?
Most experienced Linux users use the terminal or GNOME tweak tool to manage fonts, but even if the tool is extremely useful, in the same it is overcomplicated and time-consuming.
Why use these options when you can better use a smart open source app that will do almost the same for you, but much faster?
This is why the Font Manager was created.
It is the best font manager for Linux users that have decent experience with this OS and they want to manage desktop fonts, without using command line tools or manually editing configuration files.
As you see in the below screenshot, the interface is minimalist, intuitive, and very simple to use. Every button and option is where it supposes to be.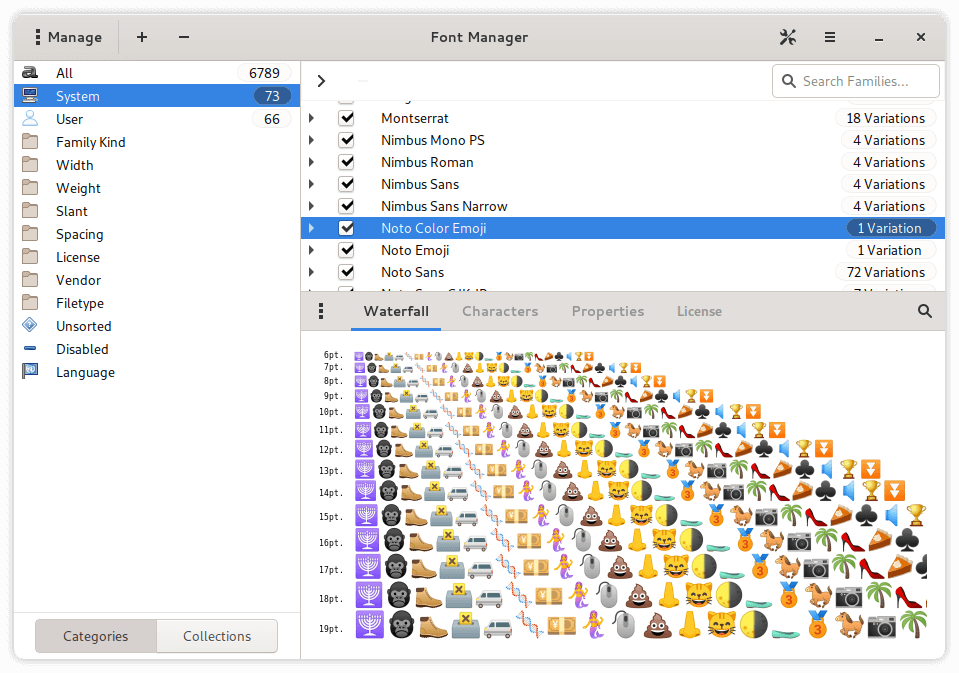 Font Manager features
This is the best Font Manager for Linux Users – Open Source.
The idea behind Font Manager was to create a super useful font manager for Linux users while keeping it simple and quick.
You don't need to read a book to use Font Manager and you don't need to watch a tutorial.
As soon as you launch the software, you will find it super simple to use.
Here are its main features:
Ability to add fonts
Ability to remove fonts
Easily filter fonts based on family, vendor, spacing, height, etc
Tweak the scaling factor of fonts
Adjust the anti-aliasing (softness/sharpness) of the font
Add font sources to preview them before installing it
Offers keyboard shortcuts to quickly manage things
Google fonts integration available out-of-the-box
Get detailed information on characters available in the family font, license, size of the font, vendor, file type, spacing, width, and style
As you can see, you can use Font Manager for everything you need.
What is Font Manager good for?
Font Manager will help you do everything you need to do regarding fonts on your Linux operating system.
Additionally, you can change antialiasing, hinting, size, font type, and much more.
All these options and much more are at your disposal with a touch of a button.
Next you will get the details of the font family, variations available, and the ability to filter and tweak based on their height, width, spacing, and more.
The app is very simple (again, it was created for the average Linux user, not for the professional that needs deep font customizations.
But anyway you will find everything you need included.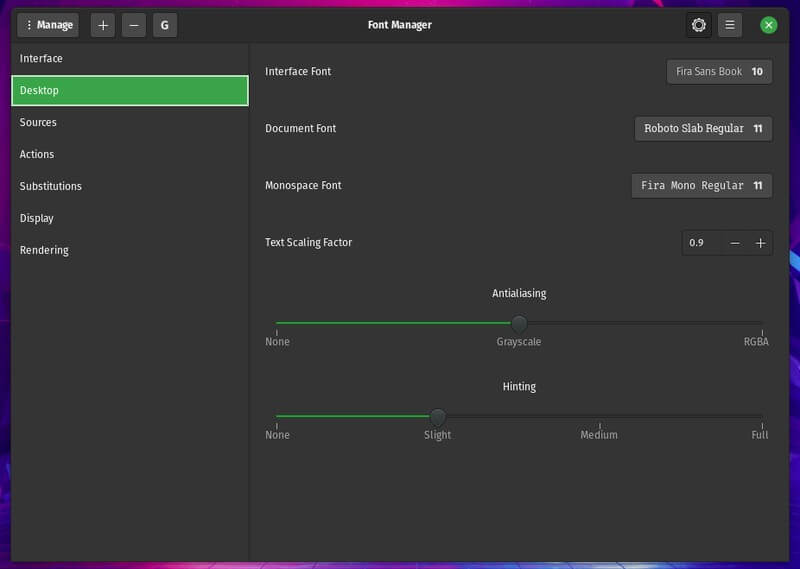 In addition, there are lots of fonts and new ones can easily be installed, just follow the steps.

How to install the Font Manager?
Depending on your OS distribution, you will have the following installation options:
1. Arch User Repository
Arch Linux users can find font-manager in the AUR
2. Fedora COPR
Fedora packages built from latest revision:
dnf copr enable jerrycasiano/FontManager
3. Gentoo
Gentoo users may find font-manager in ::pf4public Gentoo overlay
4. Ubuntu Personal Package Archive
Add-apt-repository ppa:font-manager/staging.
Sudo apt-get update.
Apt-get install font-manager.
Conclusions
You will love using the best Font Manager for Linux Users – Open Source, as it is simple to use and it looks great.
So now, Linux users have a simple to use app that is fast and efficient.
In other words, install Font Manager on your Linux OS and customize the fonts as you wish using the simple and quick interface.