You are a startup and you want to know what font should you use – here are complete details. I don't only respond to this question but I will offer you very useful hints and pieces of information.

First a few words about startups
All of us have ideas but only a small percentage take the effort to actually launch a startup.
Preparing, working with lots of people, and finally launching your own startup is something that all us should live at a specific moment in our lives.
It is a journey exactly as it was when you visited the Pyramids, the desert, the Grand Canyon, and other places. You should try it.
To be a business man or better said, to be a "maker" is much more different than working for somebody else. This is not a debate about what is better for you – to be your own boss or to be an employee.
Be a maker
As a maker, you will take full ownership over your life and finances, you will grow 10x faster than being an employee (you will learn new skills, you will find out how the economic works, you will learn about many subjects – marketing, sales, management, building trust, and so on.
And you will make decisions that will have an impact over yourself and over your business.
How will the website look? What font should you use? How will your business card look? How long or short will be your email address? How will the email signature look like? For what price you will see your products or services? And so on. You will respond to all these questions.
Regarding fonts, I will help you with useful info below.
What makes a good startup font?
Fonts are super important for your overall website design and for all the mediums where you use them. When you are a startup, you should pay even more attention to fonts than everybody else. Everything have to be perfect so you can succeed in creating your beloved idea.
The first step is to make a plan. Yes, you read it well, a plan for the fonts you will be using in your projects. You always start with a plan.
Will the font be free or paid? If it will be paid, which is your budget for getting the right font?
Will you use the font everywhere – website, business card, landing page, marketing materials, and so on? If yes, you have to pay huge attention to readability. Some fonts look great when used in a large size but cannot be easily read when are small, for example on a business card.
More info about fonts
Take care not to select a font that is not suitable for the web. This is becoming less of an issue, but it is still something you should check for.
You should create your own collection of fonts, and heavily test them on every place you will use them. Take your time and carefully check how the fonts look. Ask your partners, employees, friends, and even the internet for opinions. The process will be super enjoyable.
A font should have lots of different weights so you can easily use the same font everywhere you need – social media, websites, marketing, pictures, etc.
Check the readability of the fonts, maybe this is the most important aspect of a font. It have to be read with ease, check it with people of all ages (only if you will have customers of all ages).
How do you start?
You only have to follow these 3 steps, nobody want likes complicated things.
1.Create your font collection
To create your font collection, you have several options at your disposal but I will tell you which one is the easiest, faster, and cheapest (it costs you $0).
Its name is WhatFontIs – the best font finder tool. It identifies any font from any picture.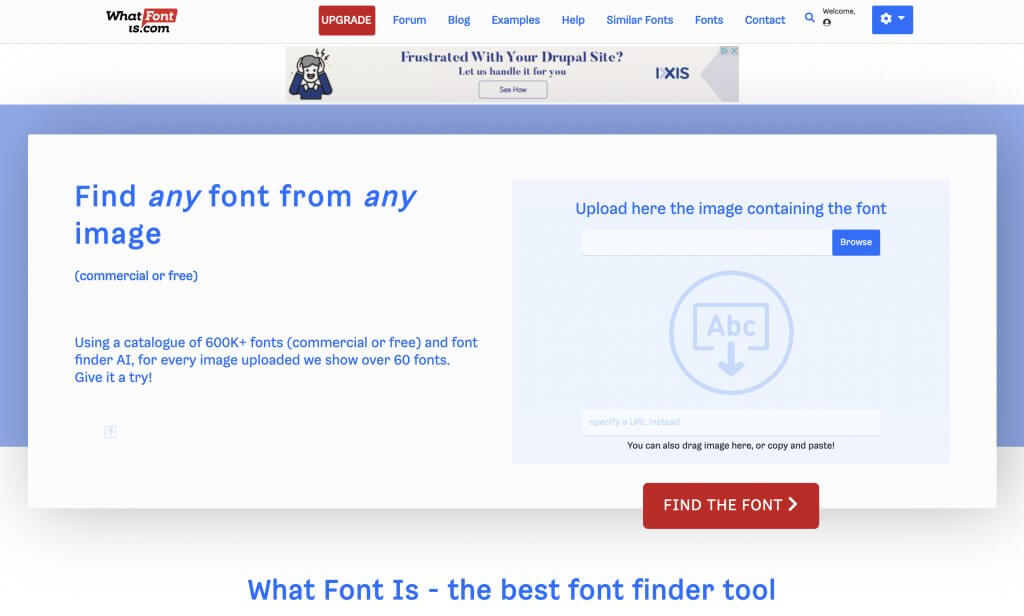 Packed with over 600k free and paid fonts, and with a clever AI software, it is the only system that identifies both free and paid fonts and which works with all font foundries, including Google fonts.
It is simple to use WhatFontIs. You take a screenshot of the font you want to identify; you upload it, you write the identified characters (if you are registered, you will skip this step), and boom, the system identifies the font you were looking for.
How to use WhatFontIs
You will find out the name of the font, the price (free or how much does it cost), where to get it from, but you will also receive over 60 free and paid font alternatives.
Now you have the tool. To build your font collection, browse the internet and save all the fonts you like.
Create a Google docs (so you can easily share with your team) and save all the fonts there. Don't forget that you need several columns:
Font name
Price
If it can be used for commercial purposes
Download link
Type of font (vintage, serious, handwritten, and so on)
Font weights (light, bold, normal – I recommend you have as many as possible)
HINT: A font collection will help you not only for this project, but also for your next ones.
2. Filter fonts
Decide together with your team what fonts you should continue to focus on.
Take into consideration all the aspects we presented in this article.
Continue only with the fonts that match all your boxes.
HINT: You should not have more than 2-3 fonts at this step.
3. Test, test, test
Test all the fonts you selected and play with different devices and sizes.
Get as much feedback as possible.
HINT: Tests are never too long, take your time.
4. After font implementation
Ok, so you decide to use a certain font. The game is not over.
Take feedback from your customers and website visitors. Find out if they are happy with the font you use.
HINT: Let them suggest you font alternatives, you will be amazed what cool solutions you can find out from them.
What to take home from this article
Planning is most times the most important step. This is how many things are being made, from cars to rockets, and from ideas to brilliant web tools.
If you are A startup and you don't know what font should you use – reread this article that has complete details. Everything you need is here.
Take your time to prepare and plan everything in much detail.