Covid-19 is a crisis that we will not easily forget and which has effects on the long run, everybody says that the world will never be the very same as before. If the world changes, we should also adapt our fonts to it, right? Today we discuss about fonts that will rock after Covid-19 crisis.
If we learned something from this disaster, it is that staying safe is the most important thing in life, that we can easily work from home and earn as much money as before (or even more), that it is better to have more time with our families and kids, that we can be much more efficient working from home (less distractions if you have a quiet room for your home office and you save the transportation time to your company office and back), and that life can change extremely fast, and that we have to quickly adapt to the "new".
During as we speak, in most countries the difficult measures taken are now relaxing. People can go again wherever they want without writing statements and giving explanations to the police officers, they can have a haircut, they can buy cars, clothes, apartments, and everything else.
But there is a huge change. People pay attention on what they spend, in which restaurants they enter, and where they drink a coffee. Today it is much more complicated and expensive to make a sale, and who doesn't know how to do it, will probably close his business.
Fonts that will rock after Covid-19 crisis
The scope of this article is to help you increase your sales.
How?
I will show you a couple of fonts that will rock after covid-19 crisis. These fonts are looking great, are fresh, and when mixed correctly with you design (website, marketing materials, prints, etc.), it will offer your potential customers a visual blast that they will like and "convince" them to buy from you.
Let's start.
Mojita – Starting at $15 – Download link

Mojita has an elegant design, very different from other fonts. It was inspired by Japanese Art Deco and the Aztec and Mayan pattern design.
When completely uppercase, it looks awesome and it is a perfect fit for heading, titles, poster applications, editorials, retail, and logos.
Hint – don't use Mojita for small paragraph, it loses its details and it is hard to read. Use Roboto, it works excellent in this combination.
Untitled Sans – Starting at $50 – Download link

I love large (even huge) headlines and Untitled Sans is a super fit for this. Usually fonts that work great for large titles are not working well in paragraphs. This is not the case here; your design will look more natural by using the same font everywhere.
It comes with all the weights you need, from a Light 300 to a Black 900.
Trouble – Starting at $12 – Download link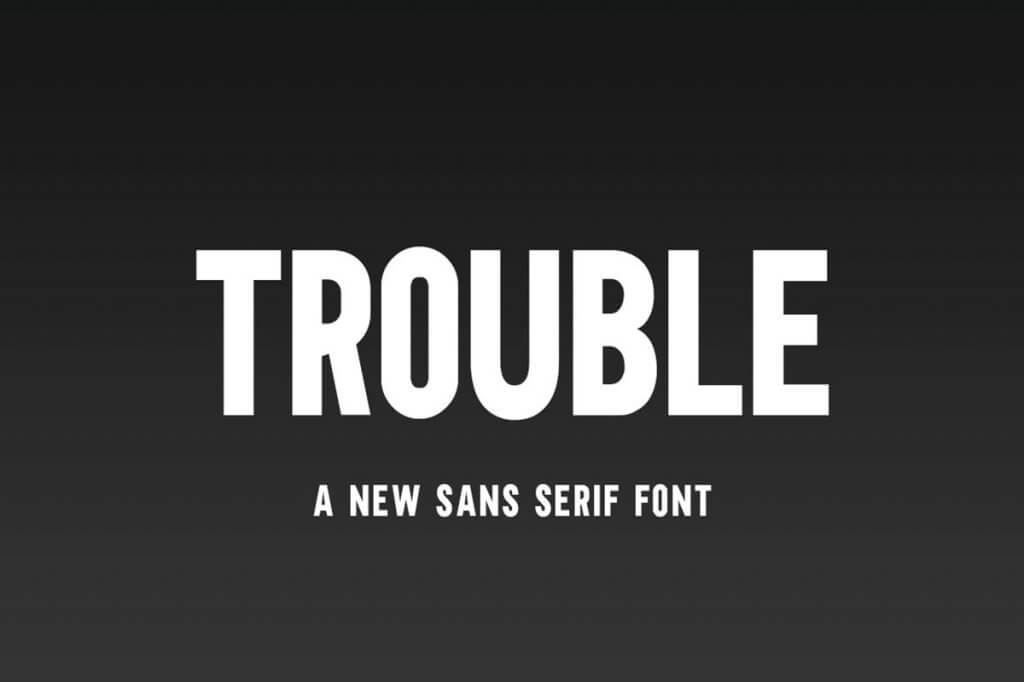 Trouble is a super fit for heavy impact headlines, social media graphics, and print designs.
Use it wise and you will grab your potential customers attention.
Extenda – Starting at $119 – Download link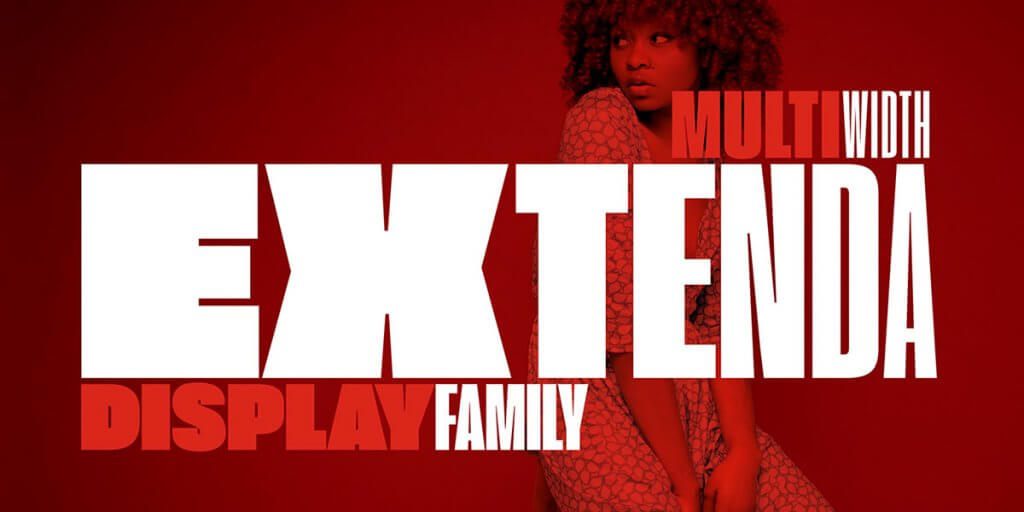 Extenda is a variable width sans serif type family created by the highly appreciated designers Francesco Canovaro, Andrea Tartarelli, and Cosimo Lorenzo Pancini.
Its mission? To create strong headlines, logos, and display text with tight spacing and maximum space coverage.
You will not work with weights with Extenda, but with widths.
I strongly suggest to take a look, it is a rare font with awesome capabilities.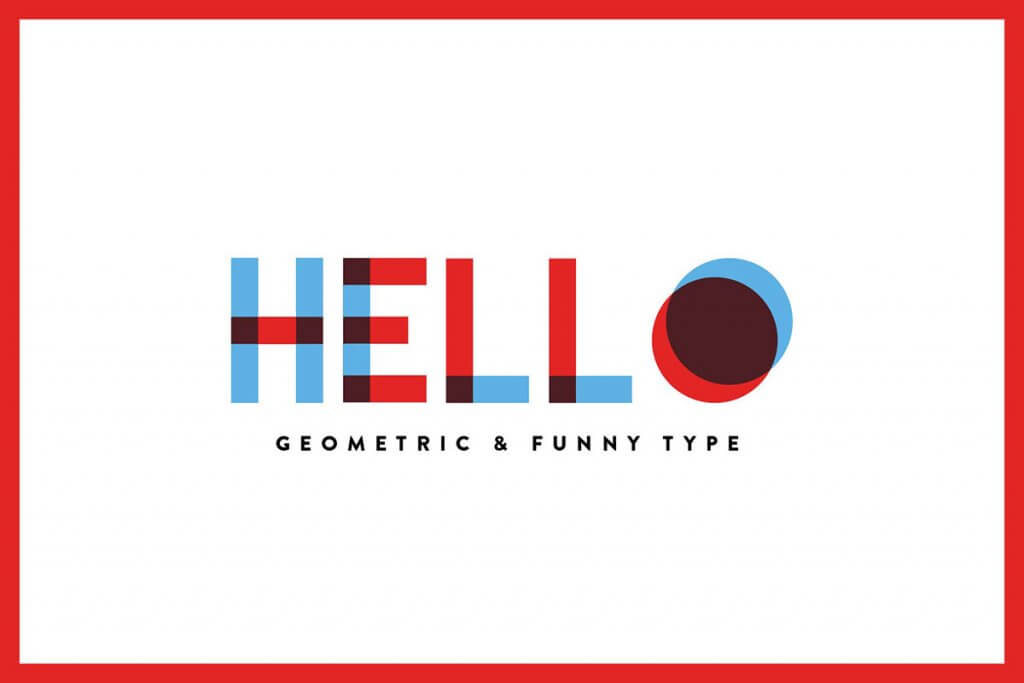 Hello will add color and joy to your designs but don't overuse it.
Hint – Pay attention to be easy to read. In this picture it is, but in others the font is hard to understand.
How to identify new fonts from pictures and directly from websites that you love
Showcases articles (like this) are sometimes helpful, but sometimes not really.
If you are looking to identify your fonts from pictures and websites that you love (are the fonts are included here), there is a simple and efficient method to do so.
WhatFontIs is the most popular font finder that you can use for both fonts identification. And it is free to use – 100%.
This tool has features that makes this solution unique and powerful:
It is the only system that works with both free and paid fonts.
WhatFontIs has a huge database of over 600k indexed fonts.
The software works with all font foundries, including Google fonts.
Identifying fonts from pictures

The process is simple and straightforward, and you don't even need to register.
Let's say that you have ready the picture that contain the font you want to identify.
First step is to upload it to WhatFontIs.
Right after, you crop it (if needed), and you write down the characters identified by the powerful AI software. This step you can skip if you register (takes less than 1 minute and it is free), the platform will do the character identification in your place.
Now you will get the font identified, getting all the info you need:
Name of the font.
The price of the font.
Download link.
And over 60 free and paid font alternatives.
It is that simple and the tool is very efficient.
Identifying fonts directly from websites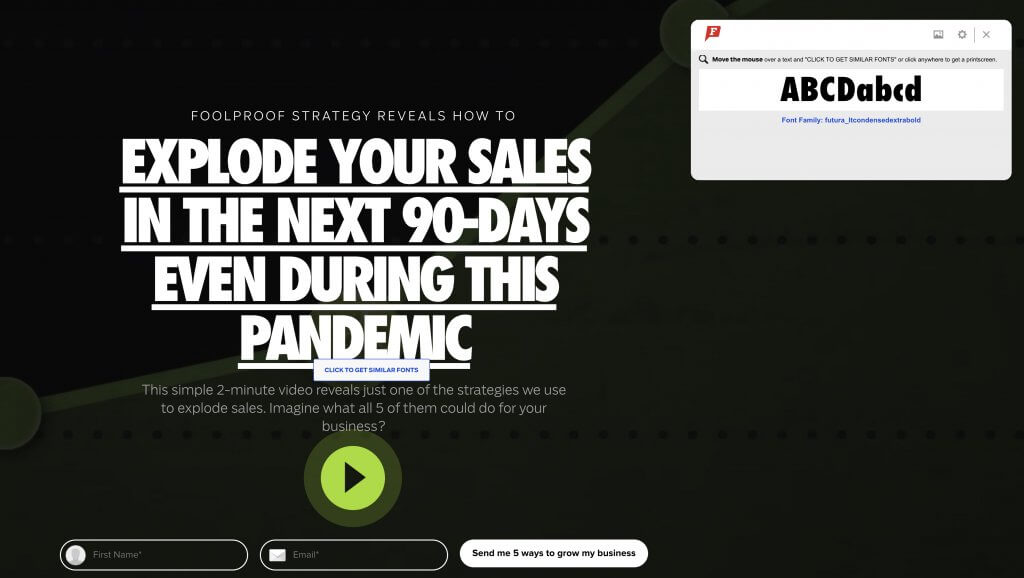 WhatFontIs has also a Chrome Extension.
It will help you identify fonts directly from websites that you love. If the fonts are expensive, WhatFontIs will help you find similar fonts that are cheaper or even free.
Use this method whenever you see a font that you like. It is a great way to build your own font collection over time.
Conclusions
The competition was huge before Covid-19 and now it is even more difficult.
To grab visitors attention, we have to play our game very well. We need the best fonts and graphic designs. And usually that means money. Invest to make more money. Hard times means more money invested, not less.
Sometimes a $50 font (many people think about it as a very expensive product that is not 100% necessary) can make a dramatic change of your website and help you make great sales. These are not big words; it is the reality and I suggest you use fonts that are not used by everybody else, even if you have to pay for them.
In this article I presented you 5 awesome fonts that will rock after Covid-19 Crisis, but also the methods (100% free) to identify fonts from pictures and directly from any website. "This package" should help you find and use better fonts in your projects.