After so many weeks of hard waiting, Apple finally set the launching date for iPhone 12.
"Hi, Speed." is the event's name. Below is Apple's invitation to join their special event on 13 October 2020, at 10:00 a.m. PDT.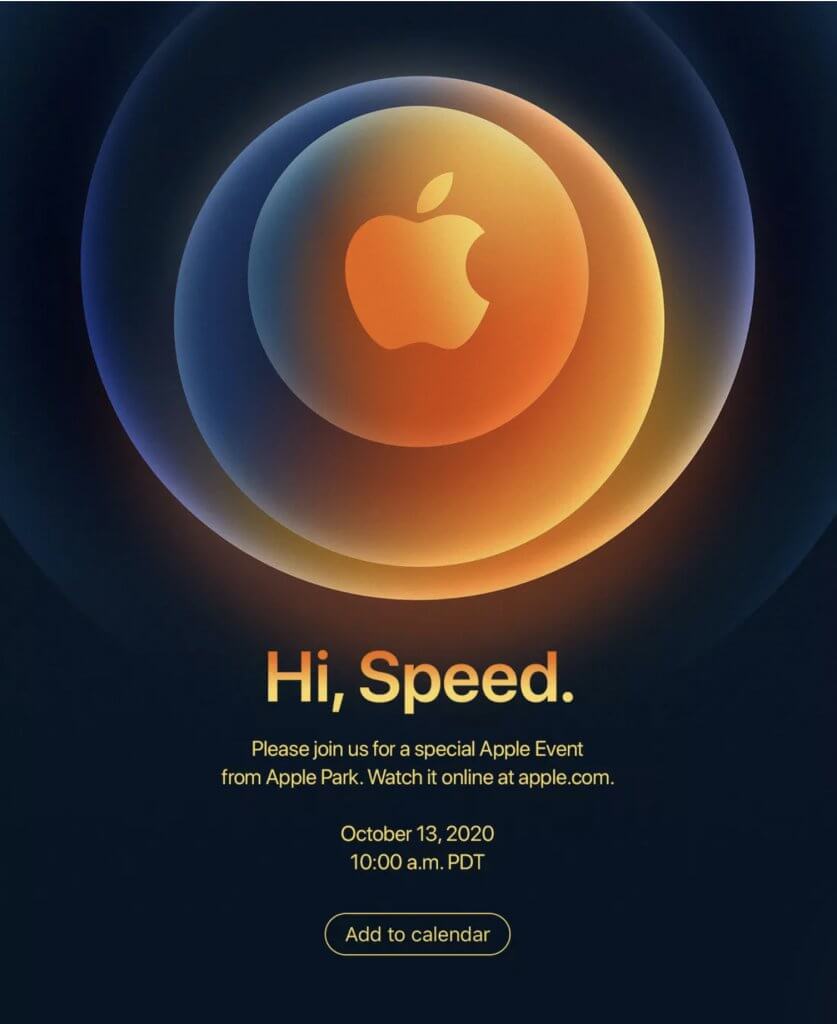 Why did Apple pick this name for their event? They want us to know that the new iPhone will be lightning fast? iPhone 11 is already super-fast; do we need even more speed? Apple says yes.
The whole planet is waiting for this launch and there are several strong reasons for this wait.
The iPhone 12 will be extremely fast from 2 points of view – CPU and 5G internet.
CPU
A14 Bionic will be noticeably faster than A13 Bionic from iPhone 11, which is already lightning-fast.
Tests from the internet showed that A14 Bionic will be no match for the processors Android vendors used for flagships and mid-range phones this year.
5G internet
5G is the next big invention and a super high-speed internet connectivity will help us do a lot more with our phones.
It is just a matter of time until 5G will be available everywhere.
New design
Apple finally decided to change the design of the new iPhone.
iPhone 12 will have the new design with flat, stainless steel edges instead of curved edges, reminiscent of the design of the iPad Pro.
There are no other options in the high-end part of the mobile industry
Let me first tell you that I owned both Android and Apple phones, and that for the last 7 years I had only iPhones.
A few weeks ago I decided to change (at least to try) my iPhone and because the new model is delayed, I considered all the high-end options in the market.
I started to do my research and see what options do I have, no matter the price. There are more or less the same prices at high-end mobile phones.
Each day, I read tons of reviews, I watched YouTube, I discussed with friends, I went in different shops to see the phones live.
I was shocked to find out so much bad stuff about each phone.
One was getting super-hot, the other has a camera focus problem, some had weird colors or bad materials (for my taste), etc.
In that moments, I understood that for many of us, unfortunately, iPhone is the only option.
Not having real options is not great, and I pretty much hate it.
See you on Oct. 13
It is awesome that Apple finally set the launching date for iPhone 12 and that the wait will soon be over.
"Taking a step back we believe iPhone 12 represents the most significant product cycle for Cook & Co. since iPhone 6 in 2014 and will be another defining chapter in the Apple growth story looking ahead despite a softer consumer spending environment,". This is what Wedbush analyst Daniel Ives wrote in a note to investors shortly after Apple's announcement went out. coronavirus.
We all expect a super iPhone, let's hope that this is what we will get.