Picsart's AI creates new fonts on the go, in seconds, and the results are super impressive.
For all of you that don't know Picsart, this software is one of the largest one-stop creative platforms for creating and editing photos and videos.
The platform is heavily loaded with stunning templates, tools, features, editors, and a brilliant interface.
Now they did a huge step ahead of their competitors, providing a super feature – a font creator based on artificial intelligence.
It is part of their Gold subscription and it works excellent.
Create fonts using artificial intelligence software from Picsart
Using AI tools to create fonts is a great step and for sure we will more and more companies applying such advanced features to their software.
Why use the very same fonts as the rest of the planet, when we can easily push a button or two and have our own unique font that fits our project perfectly?
Think about it.
This is what we can achieve using Picsart smart AI font creator.
And the results look great, take a look.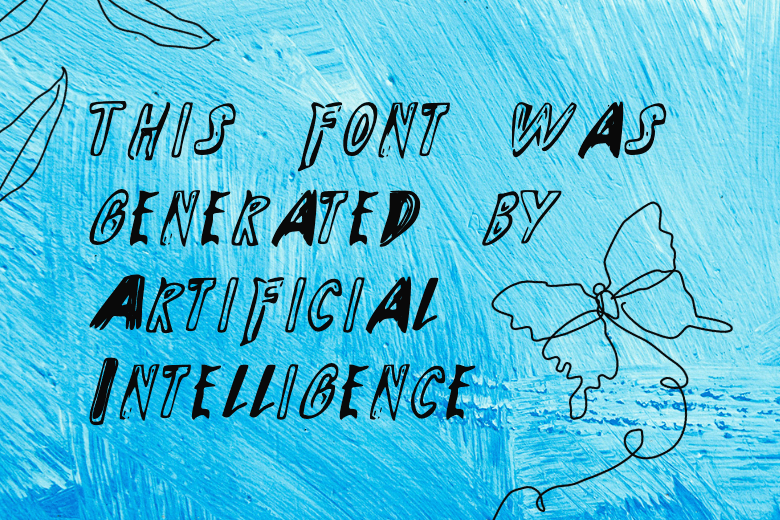 I personally love all these 4 fonts and I would use them in my projects.
What do you think?
Now let's see how to use this awesome tool to create our own fonts.
How to create fonts using Picsart AI font creator
The process of using Picsart artificial intelligence font creator to build unique fonts is very simple and straightforward.
There are just 4 steps, but don't forget that the AI font creator is part of Picsart's Gold subscription.
1. You start by opening Picsart web tools. Hit start a new project.
2. Now click on the Photos tab (left toolbar) and choose your background photo.
3. Select Text and the heading size you want.
4. Now type in your copy.
5. In this step you actually play with AI fonts.
Press on the Fonts button.
Select Picsart-Fonts and write "AI Fonts" in the search bar.
6. The Last step is to adjust, change color, resize, and much more.
That's all, you see how simple it is?
Why did Picsart launched an AI font creator?
Picsart is highly popular for being a super complete software for editing photos and videos, without difficulty, for both persons with and without experience and skills.
Fonts play a major role when creating engaging photos and videos for social media channels – YouTube, Facebook, Instagram, Twitter, and so on.
Having this unique feature, not only Picsart got ahead of its competition, but it offered their users a really complete and unique solution to their photo and video editing needs.
This is super smart, I can just applaud Picsart and say congrats.
I personally tested the AI font creator and also friends of mine used it, and the results are extremely good. As a result of the smart software, it took us much less time to create unique fonts than it would take us to search the whole internet for a nice font.
And the great thing is that these AI fonts are unique and it can be saved in our font collection so we can easily use them in all our projects.
Additionally, the AI font creator will surely be heavily upgraded in the following months and years, so keep an eye on it if you love playing with AI custom-made fonts.
Conclusions
As a result of the huge world move toward fonts customization and creation, I bet that we will soon have the possibility to create our own fonts in many other software.
And this is a great thing, we live in the easy-to-customize everything era, so why can't we create and customize fonts on all our devices – TVs, phones, tablets, cars, and everywhere else?
In short, great things happen in the font world.