WhatsApp lets you send bold and italic texts, change text format and font, to combine formatting options and much more. Find below WhatsApp – hidden tips, tricks and features you never knew. You will find full instructions below, with pictures included.
When I first saw how many things can be made with WhatsApp in terms of text design, I was extremely surprised and a bit confused as the app didn't tried to teach me properly use all these features.
WhatsApp is having over 2 billion users from over 180 countries and they didn't make a tutorial to let people know how to use the app at its full potential. Bad for them, and good for us, as now we can write this article and share it with you.
Use all of these WhatsApp hidden tips, tricks and features you never knew to dramatically increase the design of your messages. This works very well for personal scopes, when you discuss with your friends and family, but it also works excellent in business.
Let's start, I bet you are super curious to find out more.
How to make WhatsApp text bold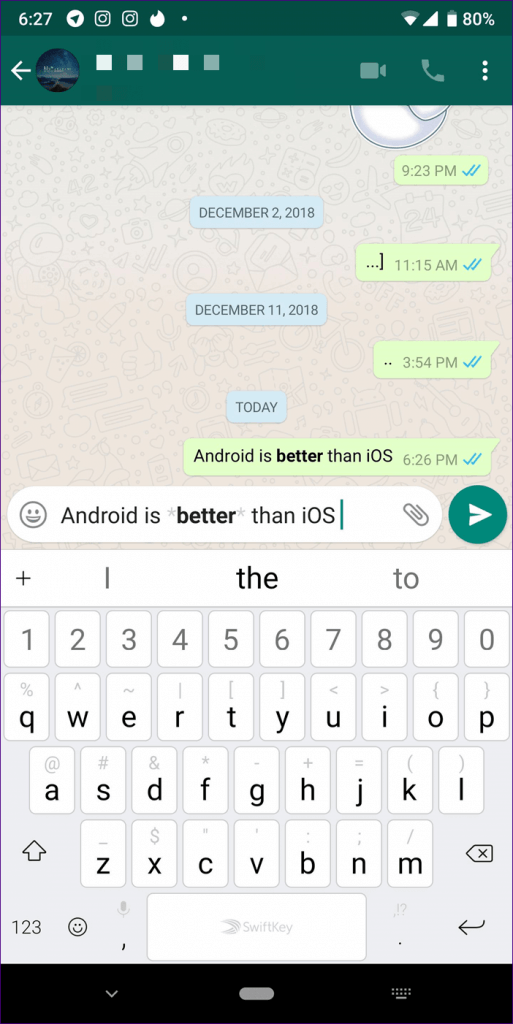 Yes, WhatsApp can be used to make your messages bold.
It is important to use the bold function whenever you want highlight something. Or whenever you are sending a long message and you need headings and subheadings.
It is very simple to do so, just use an asterisk (*) before and after the message.
How to make WhatsApp text italic

I could have bet that it is impossible to use italic texts on WhatsApp. And I would had lose the money.
It is super simple to make your text italic, just use underscore (_) before and after your message.
How to make WhatsApp strikethrough text

Strikethrough is a typographical presentation of words with a horizontal line through their center.
Strikethrough is creating a dramatic effect on your text and it has a unique way of delivering your message.
To use strikethrough on WhatsApp, place a tilde (~) on both sides of the word(s).
How to change font on WhatsApp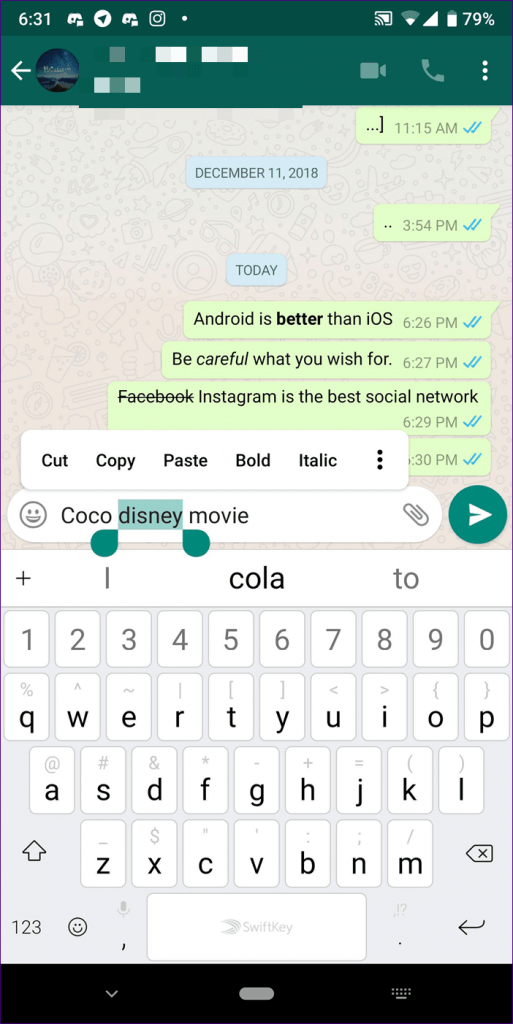 The font that we all use when we write messages is Helvetica Neue. I found out in just a few seconds, by uploading a picture of a conversion of mine on WhatFontIs – the best font finder on the web. It is totally free and the registration takes less than 60 seconds.
After I uploaded the picture, I wrote the characters as the app wanted (I wasn't registered so I had to manually insert them), and bang, WhatFontIs identified the font as Helvetica Neue, it showed me how much it cost, where to get it from, but also 60 similar fonts (free and paid).
WhatFontIs has over 600k indexed fonts, and it is the only system that identifies both free and paid fonts. It also works with all font foundries, including Google Fonts.
But enough about WhatFontIs.
If you want to change the font on WhatFontIs, there are at least 2 options.
One is to use the Monospace font by enclosing the text in three backsticks ("`). But this has to be done manually every time, in every text. You cannot use it globally.
The second option is to use third party apps that will add fonts to your WhatsApp messages.
How to change text format using WhatsApp native options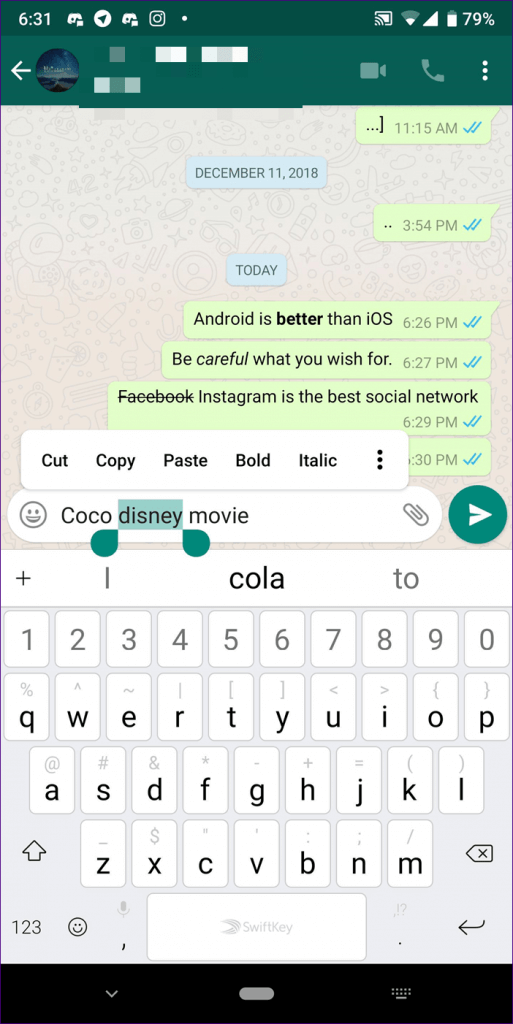 Did you know that WhatsApp is having native and easy to use options to make the same text bold, italic, and even change its font to Monospace? I don't. I always used the shortcuts.
If you are using an Android device, tap and hold the message to open the options panel. By tapping on the three-dot icon, you will view more options.
On iPhone, you simply tap and hold the text to select the formatting options you want – bold, italic, strikethrough, and monospace font.
How to change WhatsApp font size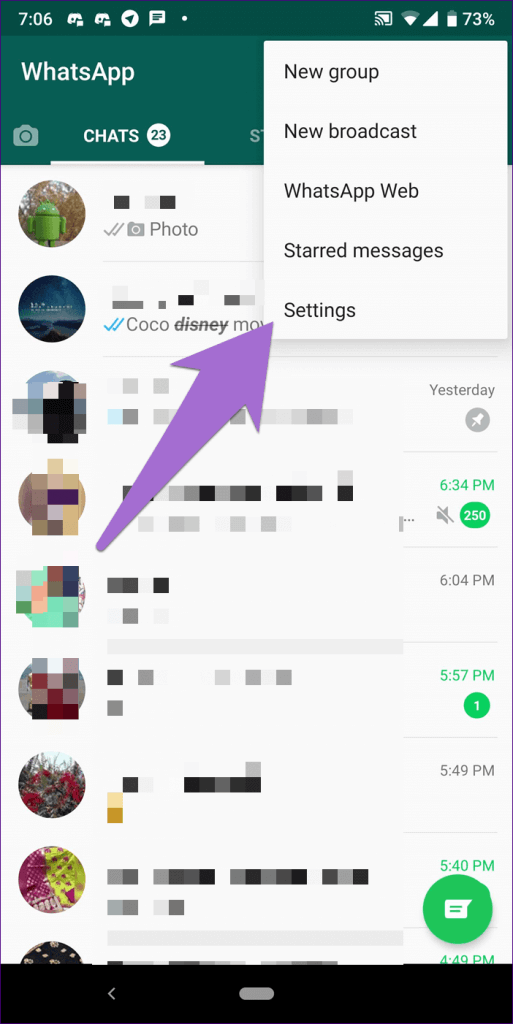 For Android devices, this is pretty basic and probably all of you know how to change WhatsApp font size.
But for iPhone, things are a bit different.
To change the font size, you have to do it globally, for your whole phone, not only for WhatsApp. You go to Display & Brightness – > Text Size. You can even make the text your iPhone is using bold.
How to combine formatting options on WhatsApp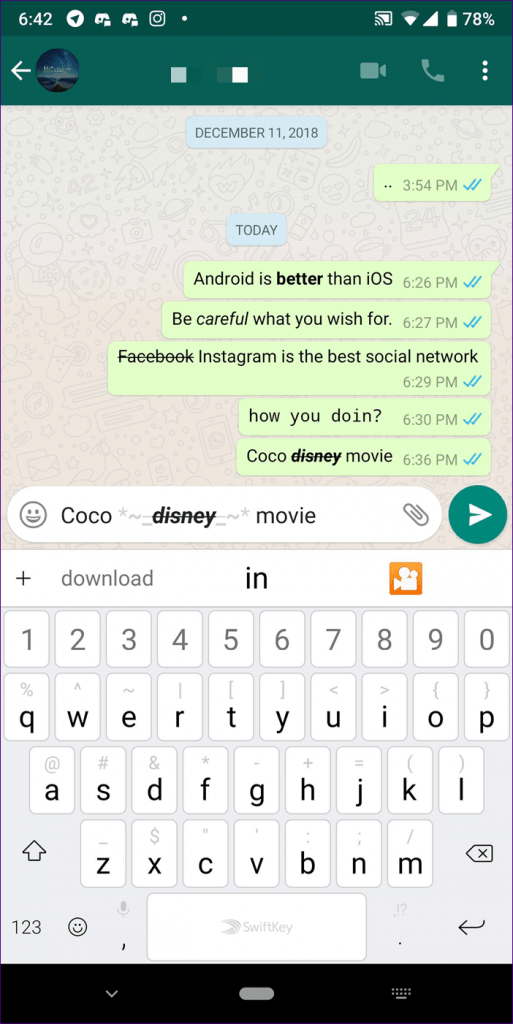 WhatsApp lets you combine all formatting options in a single message – bold, italic, strikethrough, and monospace font.
The easiest and quickest way is to use the shortcuts presented in the article
How to send colorful messages on WhatsApp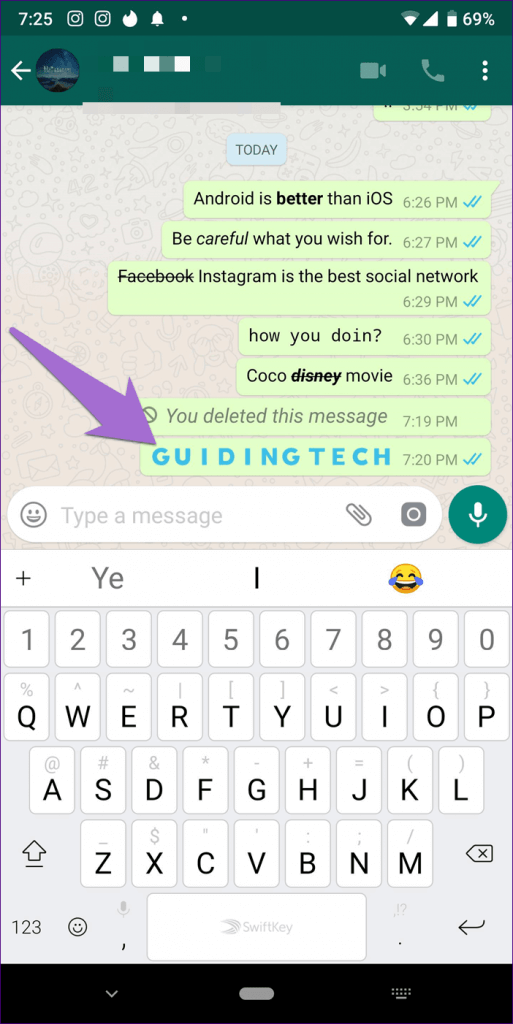 A great trick is the ability to change text colors. This works awesome on WhatsApp especially for businesses.
3 things to know about this:
It works only on Android devices.
It is not native.
You have to install BlueWords third-party app to make it work.
Find who you talk to most on WhatsApp

Is this useful? If you have kids, be sure that it is important to know with whom is your kid discussing most.
iOS & Android: Settings > Data and Storage Usage > Storage Usage > Select Contact.
WhatsApp Dark Mode
Many months of speculation passed and finally WhatsApp launched the Dark Mode.
Is this feature really useful? For some of us it will probably be, at this point, masses of people are hating it.
Conclusions
WhatsApp is a huge machine, with billions of people using it and numbers heavily increase each day. It is already used by small and large companies with huge success.
Facebook is used by most of the people, so is WhatsApp. Are you using it properly? A written message is very different from a voice message or phone conversation. Use all the WhatsApp hidden tips, tricks and features you never knew to enhance your messages.
And one more thing. If you receive a message that it is using a font you like and you can't find its name, take a picture of it and quickly upload it to WhatFontIs, the powerful AI software will identify it for you in seconds.