Which are the very best 40+ web tools and services on the planet? Depends who you ask.
We fu**ing hate rankings but many of you requested this project, we did it. 🙂
After a 2 months work, we built this showcase of over 40 different web tools and services that are among the best on the planet.
You will find included the best solutions from many industries: WordPress support service, font resource, themes, plugins, website builders, collaboration tool, online photo editors, and much more.
Let's start.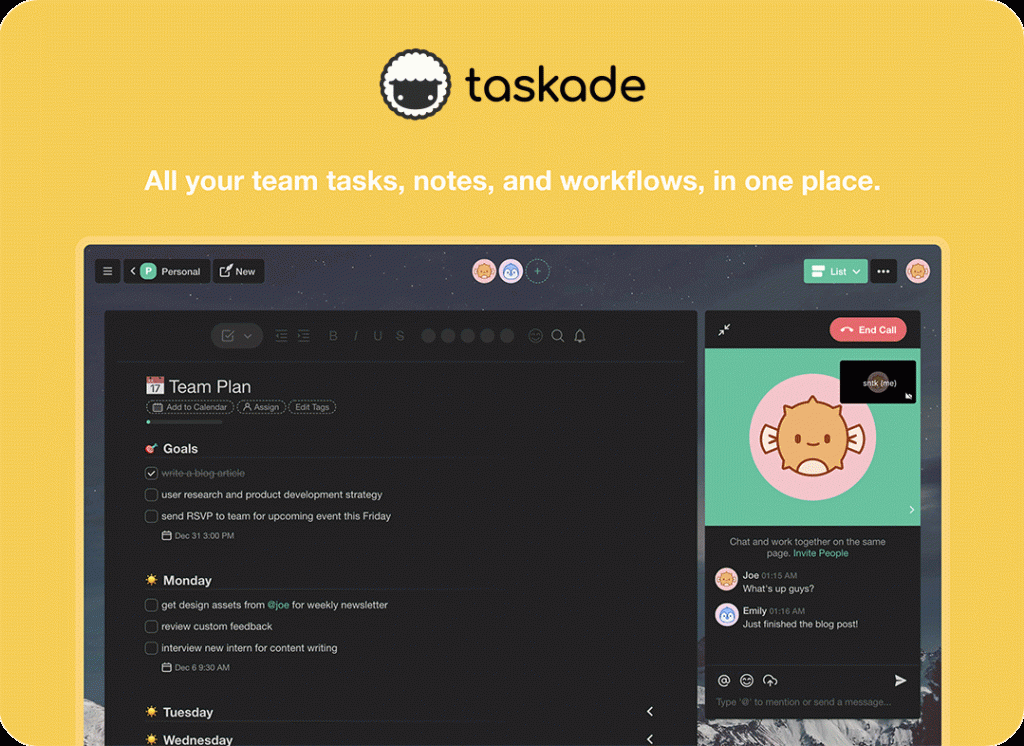 Collaborating with companies and team members from all over the world is today a simple task. You only need the right tools – Asana, Trello, Google Docs, and Slack. Sounds complicated to use 4 tools?
You don't have to use several tools to collaborate with ease and efficiency, Taskade is a new remote collaboration tool that is like having all that 4 products in one. This unified workspace solution works excellent for both real-time and asynchronous communication, and is simple to use on all systems: WEB, iOS, Android, Computers, and Macs.
With Taskade you create your own fully customized workspaces, from scratch or by using the included templates. There are hundreds of templates that you can use directly or you can fully edit them by adding blocks and using the drag-and-drop editor. It's simple and enjoyable.
On the workspace you can have audio and video calls, you can share and upload files, you choose with whom you share the workspace, you can tag team members, make notes, and much more.
Taskade is brilliant. It is loaded with a super minimalist interface that is super intuitive and fast.
Start using Taskade, it is free. The PRO version is $7 per month and come with unlimited workspaces, team members, templates, tag, no file size limitation for sharing and uploading documents, and much more.
2. Privacy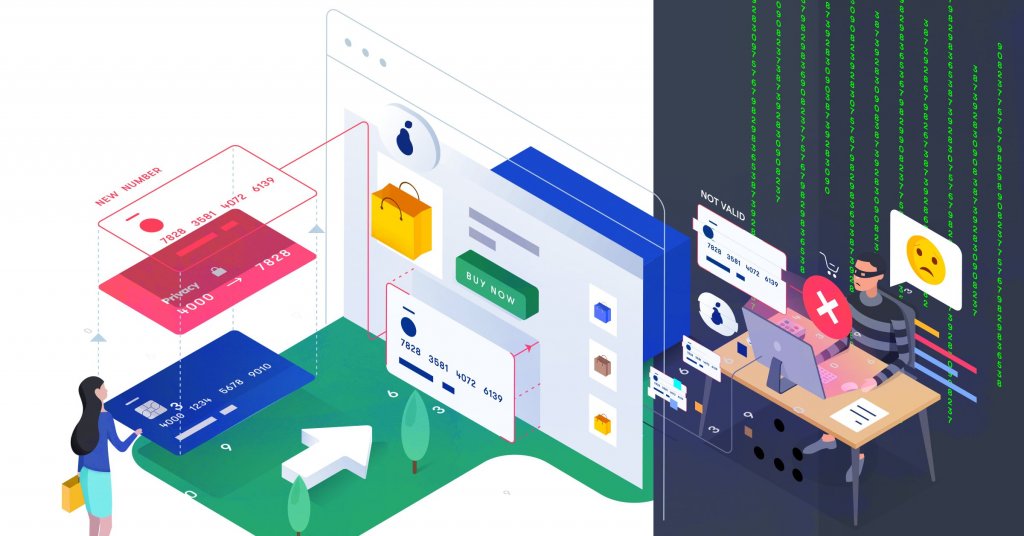 As a designer or developer, you are constantly purchasing things online: WordPress themes, plugins, packs with graphic goodies, food, clothes, furniture, electronics, and much more.
It's often difficult to keep track of all the things that you've opened up a card for and where, leaving you susceptible to online hackers.
Enter Privacy. Privacy allows you to generate virtual cards that can be used to help budget all of your expenses. With security features in place, Privacy removes safety concerns so you can focus your priorities on finding the right tools to advance your projects. With Privacy, you can:
 Manage your free trials with Privacy's single-use feature so you never have to worry about forgetting to cancel your subscription. Just close out the card after you've signed-up and avoid any additional charges.
 Users can set maximum charge limits per website, per month, or per year. Block merchants from sneaking hidden fees or double charges past you without jumping through customer service hoops.
 As another layer of security, a Privacy virtual card automatically locks to the first merchant it's been used to transact with. If that merchant is breached, your card details will not work with other vendors.
Privacy will help you protect your money. You can get started for free!
3. FFonts.net – Free Fonts Download

FFonts.net is a popular website filled with over 100,000 free fonts and thousands of commercial fonts, very well structured into categories. Browsing and checking the fonts is easy and you will easily see each font if it is a good fit for your projects.
Whenever you need a new font for your website, poster, presentation, or whatever project you may have, check FFonts.net. It is free to use.
4. Total Theme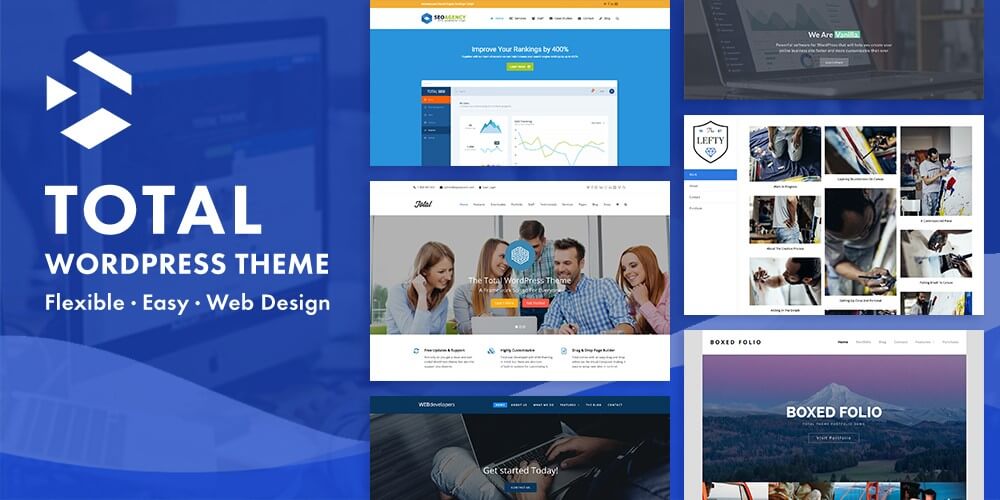 With Total WordPress theme you can easily build and save layouts using a drag & drop page builder. Create unlimited layouts for all your posts or pages with just a few clicks, no need to have any coding or special skills.
Total theme is packed with over 40+ demos that can be installed with 1-click, with 80+ builder modules, 500+ styling options, and 4 premium plugins that cost good money: Visual Page Builder, Templatera, Slider Revolution, and LayerSlider.
With Total you can build unlimited website for your customers, try it.


Appy Pie's App Builder will help you to create your own very app fast and for free.
They provide a complete tutorial that is very well written and explain the 9 steps that you need to follow.
Build your own app with Appy Pie, the results are impressive.
6. Codester

Codester is a huge marketplace where designers and developers find thousands of premium scripts, app templates, website themes, graphics, plugins, and much more.
Always check the Flash Sale section where hugely discounted items are being sold.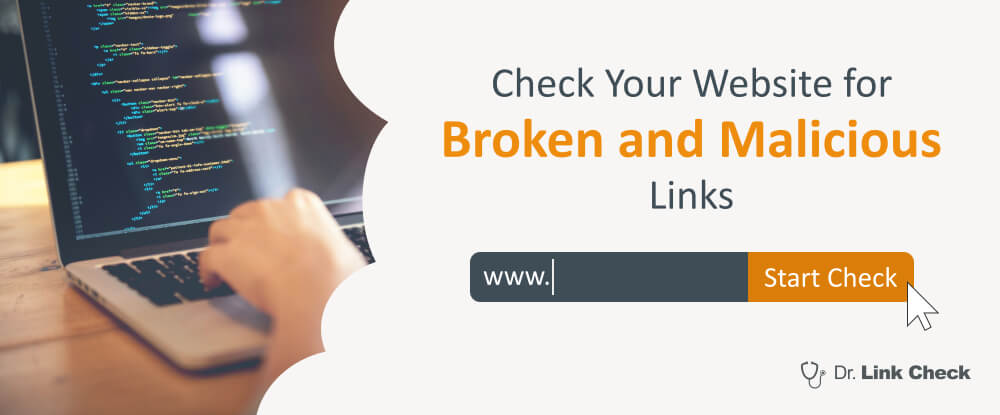 Searching your website for broken links it is difficult and time-consuming.
Use Dr. Link Check and you will get the work done in seconds. Write your website URL and in a few seconds, you will get a detailed reports.
Repair broken links, we all hate them.
8. Bonsai Contracts for Design & Developers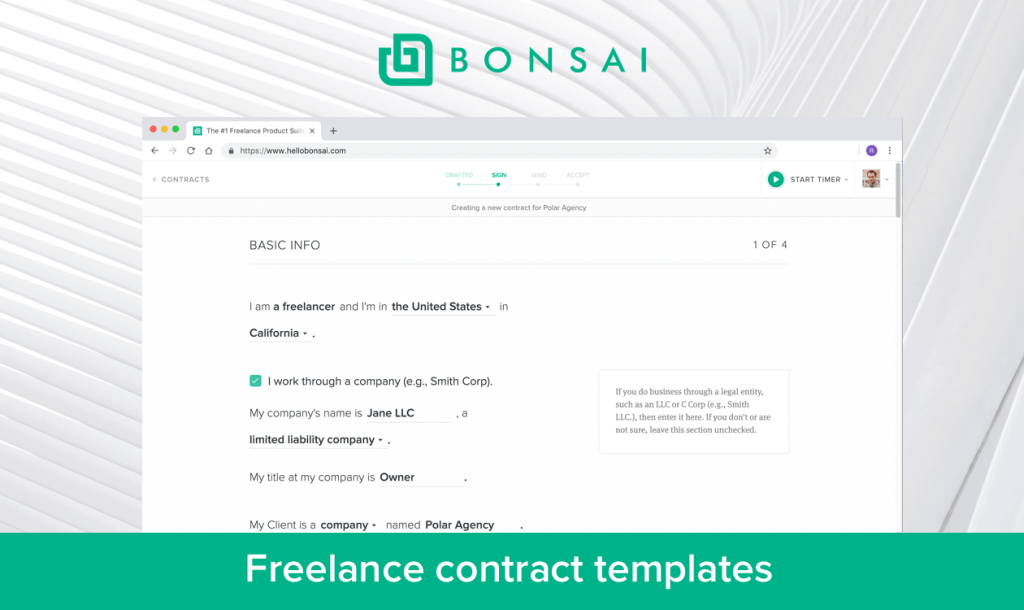 This is the most popular suite of software for freelancers, having over 100,000 happy users.
Bonsai is great to generate freelance design contracts, to build fully personalized invoices and proposals, to manage customers, and much more, everything from the same place.
Try Bonsai for free.

Mobirise is a powerful free website builder that is packed with tons of cool stuff: an amazing 2,500+ website templates, with sliders, galleries, forms, popups, icons, and much more.
Create professional websites with Mobirise, it is simple and enjoyable.
10.Affordable design to code web development service

Goodie is a professional web development service that you can rely on. They always deliver quality and they always respect the deadlines, no matter what.
Get in touch with Goodie – your reliable web development partner.
11.Astra Theme – Elementor Templates

Astra will help you supercharge your Elementor website. Browse Astra, they have over 100 free and paid website themes for Elementor.
Make your website stand out of the crowd with Astra.
12. Landing pages

MailMunch is the fastest growing landing page platform, having tons of happy users.
This platform is great for creating unlimited landing pages and squeeze pages, that will increase conversions by up to 400%.
Use the included drag-and-drop builder and the gorgeous landing page templates. It is simple to use MailMunch at its full capacity, you don't need any skills.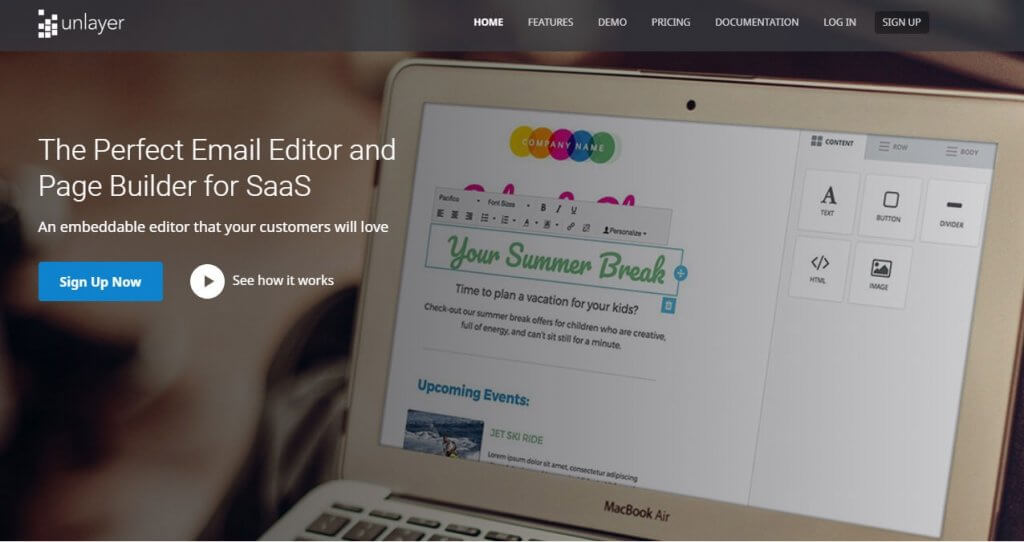 Let your website create landing pages and email directly from your website by embedding Unlayer, the perfect email editor and page builder for SaaS.
It is packed with a drag-and-drop builder, with tons of beautiful templates, and a lightning-fast interface that is easy to use.
See how it works.
14. Schema Pro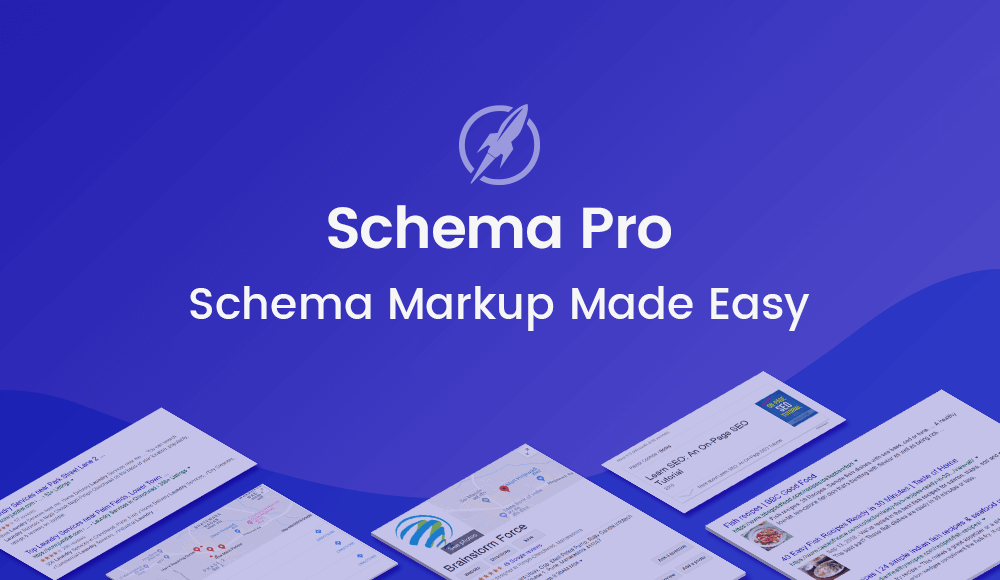 Schema Pro is the leading WordPress plugin for quickly adding schema markups. It is lightning fast and efficient, by pressing a single button all the markups are being added to all the selected pages.
Make your website rank higher in search engines.
15. Rank Math SEO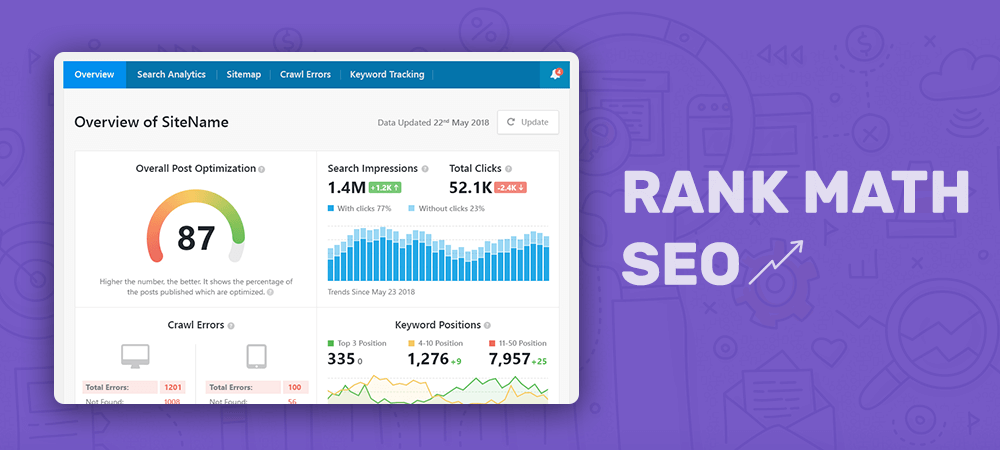 Rank Math is a popular WordPress SEO plugin that will help you and your website. You will get more time (the plugin works autonomously after a basic configuration) and your website will rank higher in search engines.
Get Rank Math, it is free.


Imagely has everything you need to create a super photography portfolio – WordPress themes and plugins, including the famous NextGen Gallery plugin that is used with huge success by millions of people.
Display your photos in stunning galleries.
17. Zapier Mastery Learn how to automate your business to create more free time

More time can be many things – more books, more time spent with the family, more exercises, more time for hobbies, more projects, and so on.
To get more free time, learn business automation from a top automation engineer.
He made this course which is easy to follow.
18. WordPress photography themes

Looking for the best Photography WordPress themes?
Photocrati is the creator of these themes that look awesome and which are heavily optimized for speed, SEO, and high-traffic.
All these themes are simple to customize and are great for displaying stunning galleries and selling images like a pro.
19. The #1 WordPress Knowledge Base Theme

KnowAll is the leading knowledge base theme for WordPress, practically they smashed their competition.
It comes loaded with tons of features and options, everything you need can be done with KnowAll.
Learn more about it.

Creating website is super simple with 8b, the simplest website builder on the market.
The interface is fast, easy to use, and intuitive, and the website builder comes loaded with over 250+ gorgeous templates to start with.
Create your website now with 8b.


ShowThemes spent good time working with event professionals to create the very best premium WordPress event themes. And they succeed.
All these themes look awesome and are heavily optimized for conversions and high-traffic.
Check them.
22. Real Estate WordPress Themes

TeslaThemes is offering 67 premium WordPress themes for blogs, shops, agencies, real-estate, and much more, for only $99.
You will be impressed by the level of quality of these themes.
23. uKit

How to create a website? With uKit, and it's never been simpler. Choose one of the hundreds of designer-made templates, add pre-built blocks in a convenient visual editor, add personal touches and publish it in one click. SEO, analytics, blog, promotion tools, customs domains, SSL, image optimization and more are also at your fingertips. Never before has the creation of your own website been this simple and accessible to all.
24. Marketables – A Resource Marketplace


Are you looking for premium landing pages, email templates, banners, and covers? Create an account on Marketables and browse through dozens of marketing resources to use in your future marketing campaigns.
If you are creating your own assets, join Marketables and start selling them to other platform users!
Sign up and become a part of Marketables!
25. stepFORM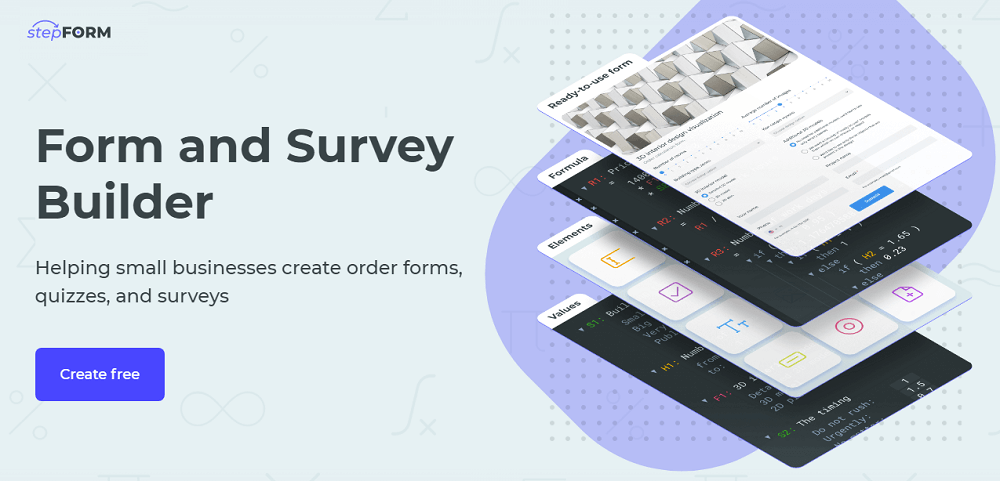 If you are thinking of engaging your audience with conversational forms, quizzes or surveys, stepFORM is the answer you are looking for. It's a fresh service that doesn't require any coding knowledge. You can start with the free plan to discover its features and see if it works for you. You can even create and manage ratings within your form. Just give it a try.
26.LogoAI

LogoAI will help with stunning logos made in seconds by their powerful AI software.
Write your company name, add a slogan, and right after LogoAI will show you hundreds of logos.
Try it, the results are impressive.

WordPressToWix.PRO has distinguished itself as a reputable, safe and affordable website migration service. The fact that the platform employs only top notch professionals makes it possible to entrust them with all kinds of projects, irrespective of their complexity and niche. Each client is assigned a personal developer that can be contacted any time to figure out the required details and handle special tech issues.
28. actiTIME

actiTIME is a very popular software that is used for time tracking, for scope management, for accurate billing, and much more. It is used by thousands of companies with success, including big names like Xerox, Accenture, and Philips.
Sign-up for the free trial, it is available 30 days, all the features are working in the trial, and you don't need a credit card.
29. uSocial

If you want to connect your website to social media to get more visitors to your site, uSocial is what you are looking for. It's a modern service of building Like/Share buttons that is perfect for both newbies and pros. It provides a number of tools, professional-looking design, mobile optimization, most popular social networks, clean code, and analytics. Explore all the features today.
30. Topper

Choosing Topper WordPress theme, you get what you pay for. This is a multi-purpose WordPress theme that features an impressive collection of 14+ demo skins. You can pick any of them or download all skins from the package, paying $5 for each of them. The theme also includes a free version, which provides you with the Theme Core and styles suited for your blog. Topper also provides a selection of advanced single posts, blog layouts, header and footer styles, full compatibility with Elementor and other awesome plugins for WordPress.
31. uCoz

uCoz is a powerful website builder that helps you build websites of your dreams with little effort. Need a website? Come and make one with uCoz! Visual editor, direct code access, ability to set up SSL, custom domains and many more. They took care of everything too technical to let you focus on what really matters — your website style and content.
32. InvoiceBerry

InvoiceBerry is a popular invoicing software used for sending fully customized invoices in 60 seconds or less, to track expenses and payments, to create reports, manage clients, and much more.
Sign-up for the free trial.
33. uCalc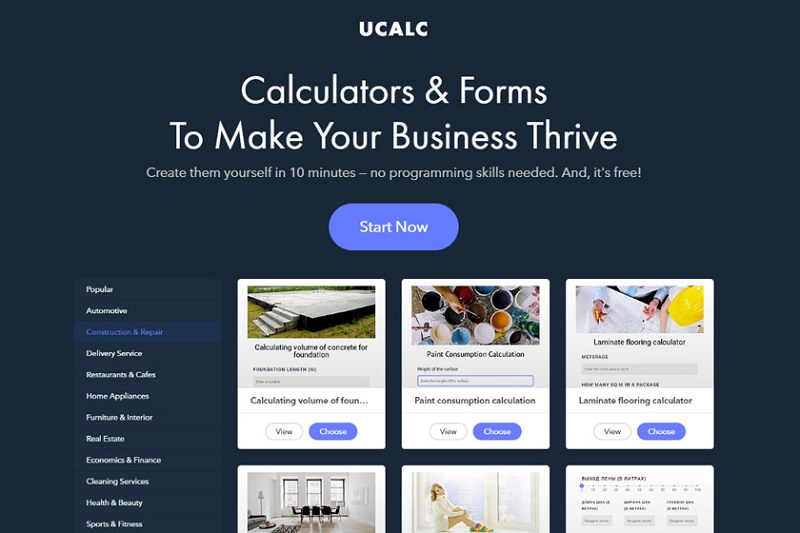 uCalc is a beginner-friendly platform with a complete toolset for creating calculators/forms with integrated payment options. The drag'n'drop interface lets you craft the covetable tool without a hitch since no technical skills are required. Select the suitable template and get the most of all uCalc features. If needed, various formula types are available for you to create a perfect calculator for any purpose.
34. Helion

Promote your creative project efficiently using Helion WordPress theme. This is a multi-purpose WordPress theme suited for a number of topic-specific blogs, portfolios, and web stores. The theme includes 5+ header styles, 11+ demos, 9 blog layouts, and a bunch of inner pages. Modify it in the drag-and-drop mode with the Elementor. Promote your works on social media thanks to the full integration with all popular social media options.
35. Wix2WP.PRO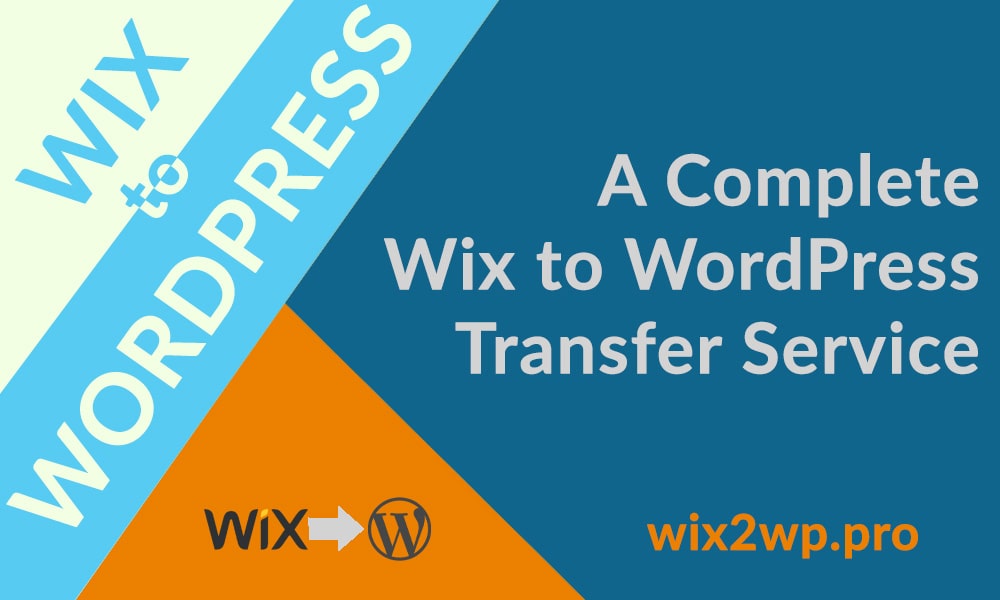 Users, who are currently looking for a credible website migration service to move their websites from Wix to WordPress, will certainly benefit from dealing with Wix2WP.Pro. The platform assigns a personal manager to each project to control all the steps and details that may affect the result. They use only approved and 100% valid codes to provide smooth project performance after the completion of the transfer process.
36. Fotor

Fotor is a complete visual content solution that will help you create engaging pictures and content for your websites, social media channels, posters, etc.
Join the millions of people that use Fotor with huge success.
37. uLanding

uLanding is a user-friendly platform that provides everything you need to create your professionally designed landing page at a stroke. No programming and designing knowledge required. With the no-frills uLanding builder, you just opt for a template, add the covetable elements or blocks with pre-filled content and publish the page. Minimum effort, maximum output. Do the A/B test and see the result.
38. Moderated chat for live Q&A and Web Events

RumbleTalk will add a moderated chat for live Q&A and web events on your website, in seconds. It is the most popular service on the market, being used by huge names, including by the famous WIX website builder.
Start with the free plan and upgrade it whenever you need it.
39. MMThomasBlog.com

MMThomasBlog.com deals with discovering special parameters and distinctive features of popular website builders. The website also delivers comparison of these platforms. Additionally there is access to the Blog section that comes with articles covering the major web design-related aspects. Such an extensive range of information makes it possible to pick a worthy web building tool and follow recent niche updates available all in one place.
40. Gutentype

Gutentype WordPress theme is created wit appeal to all the avid fans of innovations in web design. It will also be luring to the webmasters that enjoy working with the Gutenberg page builder. The theme is fully based on the latter and provides full compatibility with all the widgets, blocks, styles, etc. of the top page builder for WordPress. Download the theme to your collection and enjoy the visual appeal and professional code combined in a single package.

For all those users looking for a professional service to convert their HTML projects to WordPress, HTMLtoWordPress.PRO offers high end support and a wide range of services provided at reasonable cost. They are ready to ensure seamless conversion process that complies with all the objectives and requirements. The platform guarantees transparent transfer process, clear pricing policy, individual approach to each project, attention to details and special website parameters, ongoing support, quality assurance along with other undeniable benefits.
42. Shella – Ultimate Shopify Theme

Shella is the most powerful and complete Shopify theme that you can use to create a high-converting and gorgeous fashions store. Everything you need is included, and it is super simple to use it.
With Shella, your website will take a huge leap in front of your competition.
43. Customify – The Most Customizable WordPress Theme

Customify is the most customizable WordPress theme on the market, free to use, that comes loaded with beautiful pre-made templates, and tons of deep level customizations.
Customify is optimized for SEO, for high-traffic, and conversions, being a right fit for all kind of websites, including the big ones.
Get Customify for free.
Conclusions
My favorite web tool is Taskade because it is a new collaboration tool, very similar with Tesla. They both fight big brands with huge budgets, and they both do an excellent job.
Which one you like most?