Let's find out together which are the 20 fonts used in famous logos – download links included. You will find out the name of the font, you will get the download link, but you will also find out how to identify fonts for free with a super clever and simple to use solution.
It is an excellent exercise if you are looking to create a text logo, if you are looking for new fonts, if you want to learn how to identify fonts for free, or if you are just curious to find out what fonts are huge brands using.
These are the 20 fonts used in famous logos – download links are included
YouTube

Font used: Trade Gothic Bold Condensed No. 20
2. WhatsApp

Font used: Neue Helvetica 75 Bold
3. Walt Disney

Font used: Walt Disney Script
4. VISA

Font used: Myriad Pro Black Italic
5. Toyota

Font used: Avenir 95 Black
6. Tommy Hilfinger

Font used: Gill Sans Regular
7. Subway

Font used: Helvetica Black
8. Snickers

Font used: Lunch Time
9. PayPal

Font used: Future Bold Oblique
10. Nutella

Font used: ITC Avant Garde Gothic Book
11. LinkedIn

Font used: Myriad Bold
12. Giorgio Armani

Font used: Didot font
13. Flickr

Font used: Frutiger Black
14. eBay

Font used: Univers 53 Extended
15. DC Comics

Font used: Gotham Bold
16. Aston Martin

Font used: Optima Roman
17. Adobe

Font used: Myriad Pro Bold Condensed
18. American Apparel

Font used: Helvetica Black
19. Black & Decker

Font used: Avenir Black
20. BBC

Font used: Gill Sans STD
How to identify fonts used in any logo, picture, or website?
I used a super simple and free solution to identify all the above fonts. Its name is WhatFontIs and it is the best font finder you can use.
The powerful software is the most advanced font finder, for several years now, and it is free to use. It comes loaded with over 600k indexed fonts, it works with all font foundries, and it is the only system that can identify both free and paid fonts.
It can be used in 2 ways, depending on what we need to do.


Using the font finder from the browser extension you can easily identify fonts used on the web: in emails, on websites, landing pages, and everything else. This opens a huge opportunity. We can easily find out the name of any font from the web and get over 60 free and paid alternatives using WhatFontIs. We get the results directly from the browser extension.
You will find the WhatFontIs icon in the upper right part of your browser. Click it to activate the software and when you hover your mouse over any text, you will find out the used font.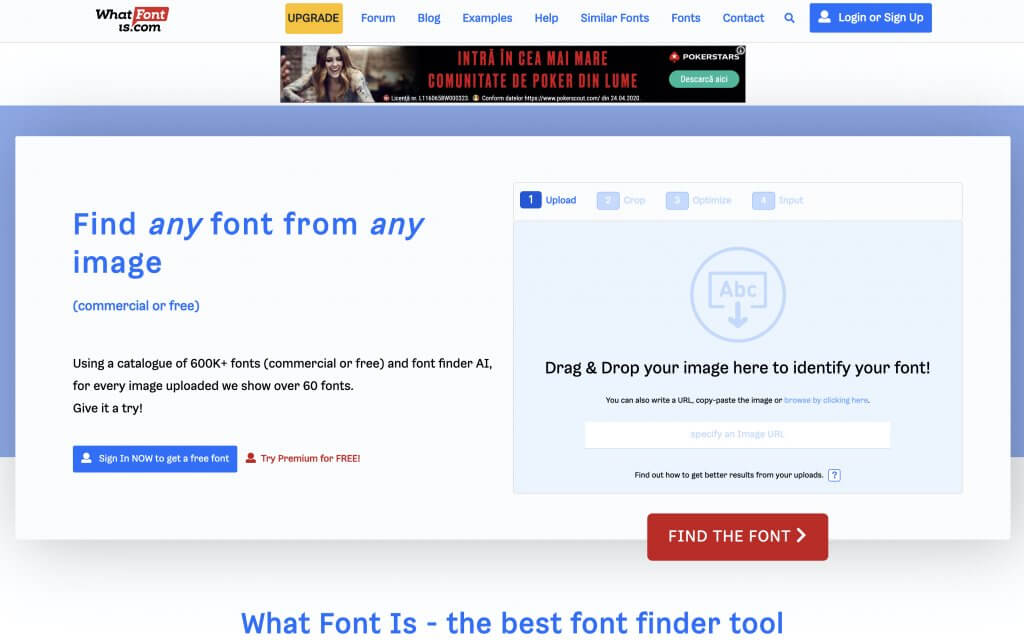 If you want to identify fonts from pictures, you will use directly the font finder website.
Upload the picture, crop it if needed, write down the letters that the software identified (this step is made automatically if you are a registered user), and right after you will find out the following info:
The name of the font you wanted to identify.
If it's free or paid and how much it costs.
Where to get it from.
Over 60 free and paid font alternatives.
Conclusions
There is a lot to learn when from how famous logos look. All of them are very well balanced, inspiring, and what amazes me is that they use free or not so highly priced fonts.
Many times, we think that we need complicated or expensive products for our websites, logos, or many parts of our lives. This is not true and we can see that every moment when we are using cheaper or even free products.
Hope this article helped you find fonts for your logo or project. Don't forget to use WhatFontIs to identify fonts from all the places you want – emails, websites, landing pages, and pictures.